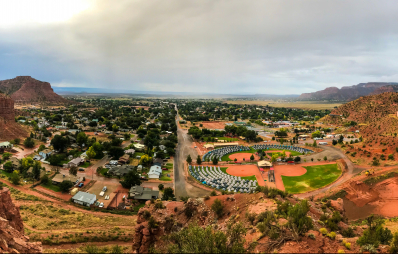 Kanab is a city in and the county seat of Kane County, Utah, United States. The area was first settled in 1864 and the town was founded in 1870 when ten Mormon families moved into the area. The population was 3,564 at the 2000 census.
Locals refer to Kanab as "Little Hollywood" due to its history as a filming location for mostly western movies and television series such as Stagecoach, The Lone Ranger, Gunsmoke, Daniel Boone, El Dorado, Planet of the Apes, The Outlaw Josey Wales, and WindRunner: A Spirited Journey.
Kanab is situated in the "Grand Circle" area, centrally located among Vermilion Cliffs National Monument, Bryce Canyon National Park, the Grand Canyon (North Rim), Zion National Park, and Lake Powell. Other nearby attractions include Grand Staircase-Escalante National Monument, Coral Pink Sand Dunes State Park, the privately owned Moqui Cave, and the largest animal sanctuary in the United States, Best Friends Animal Society.
Quick Facts:
2000 Census Population: 4,492
Elevation: 4,950 feet
Average Temperatures:
Summer - high 93, low 58
Winter - high 47, low 22
Distance from Kanab (mi):
Salt Lake City 303
St George 83
Phoenix, AZ 345
Las Vegas, NV 203
Zion National Park 40
Lake Powell 73
Grand Staircase 14
Paria Movie Set 32
Coral Pink Sand Dunes 23
Kanab is the County Seat of Kane County